Heute morgen ist die Welt wieder in Ordnung 😉
Blauer Himmel, tolles Wetter, die Nacht war ruhig, mal abgesehen von einer Gruppe Coyoten, die nachts und auch morgens rumgeheult haben.
Es geht wie immer so gegen 07:30 Uhr los, heute steht der Abstieg zu Scissors Crossing auf dem Programm.
Scissors Crossing ist letztendlich nichts anderes als eine Highway-Brücke, die Schatten spendet und unter der es einen in der Regel gut gefüllte Wasser-Cache gibt. Wasser-Caches sind ähnlich wie Trail Magic Orte, an denen Menschen für Hiker Wasser als Unterstützung deponieren. In der Regel auch kostenlos, manche haben Boxen für freiwillige Spenden. Als wir dort ankommen ist der Cache gut gefüllt.
Im Frühjahr hatte Südkalifornien übermäßig viel Niederschlag und teilweise mit Überflutungen zu kämpfen, von denen auch Scissors Crossing betroffen war. Mittlerweile ist aber alles wieder halbwegs hergerichtet und Hiker freuen sich über gallonenweise Wasser! Vielen Dank an die Menschen, die das ermöglichen!
Der Abstieg an sich ist relativ moderat, dennoch dauert es ein paar Stunden, bis wirklich die Talsohle erreicht ist und es dann in mehr oder weniger gerader Linie Richtung Highways geht.
Von Scissors Crossing aus gibt es zwei Möglichkeiten, per Anhalter weiterzukommen: Julian oder der Stagecoach RV Campingplatz.
Wir entscheiden uns für Julian und werden sehr schnell von einem Pickup-Fahrer mitgenommen.
In Julian checken wir in der Julian Lodge ein. Ich bleibe, weil mein rechtes Knie ein wenig rumzickt (…nichts schlimmes, aber besser vorsichtig sein, als den Urlaub ruinieren), zwei Nächte, Ruth und Saskia machen sich morgen wieder auf den Weg.
Mittags gibt es einen Burger, nachmittags treffen wir ein holländisches Paar wieder, das wir von Scout & Frodos noch kennen und essen abends gemeinsam Pizza.
Am nächsten morgen frühstücken wir zusammen und anschließend machen sich Ruth und Saskia wieder auf den Weg.
Ich habe heute ein wenig Verdauungsprobleme, da kommt der Ruhetag gerade recht… und es werden zwei Ruhetage draus. Ich bin vermutlich ab Freitag wieder auf dem Trail unterwegs. Da in der Woche auf dem Trail alles OK war, denke ich mal, dass ich gestern hier in Julian irgendwas gegessen habe, das ich nicht vertrage. Das wird nicht ganz billig, aber die Verdauung sollte wieder normal funktionieren, bevor ich weiterlaufe.
---
Waking up to clear blue sky, beautiful sunshine after a quiet night. Except for some coyotes who have been howling shortly at night and early morning.
Today we're descending to Scissors Crossing.
Scissors Crossing basically is a highway bridge providing shade and usually has a well maintained water cache. Water caches are similar to trail magic places where trail angels store water for hikers. Normally it's for free, some may have a donation box. When we arrive the cache is stocked well.
This spring Southern California got a lot of precipitation and had problems with floodings that also affected Scissors Crossing. Meanwhile everything is repaired and hikers can enjoy gallons of water. Thanks to all the people maintaining this and other caches along the way.
The descend is not difficult although it takes some time to get down to the floor of the valley and head straight towards the highway.
If you want to take a rest at this point of the trail there are two options from Scissors: Hitchiking to Stagecoach RV Campsite or Julian.
We decided to go for Julian and had a good luck getting a hitch within minutes.
In Julian we get rooms at the Julian Lodge. I will stay for two nights due to some knee issues (nothing serious thou – just being careful and taking a good rest) while Ruth & Saskia will continue hiking tomorrow.
We had burger for lunch and later met a dutch couple who we knew from Scout & Frodo's and had a pizza with them for dinner.
In the morning we have breakfast together and Ruth & Saskia leave.
I am having some trouble with digestion today so the day off comes in handy. And I'll stay another night, hopefully being back on trail on Friday. As there have not been problems while I was on trail I think I might have eaten something here in Julian that my digestion system couldn't handle. This will not be a cheap stop but I don't want to be back on trail having issues like that.
---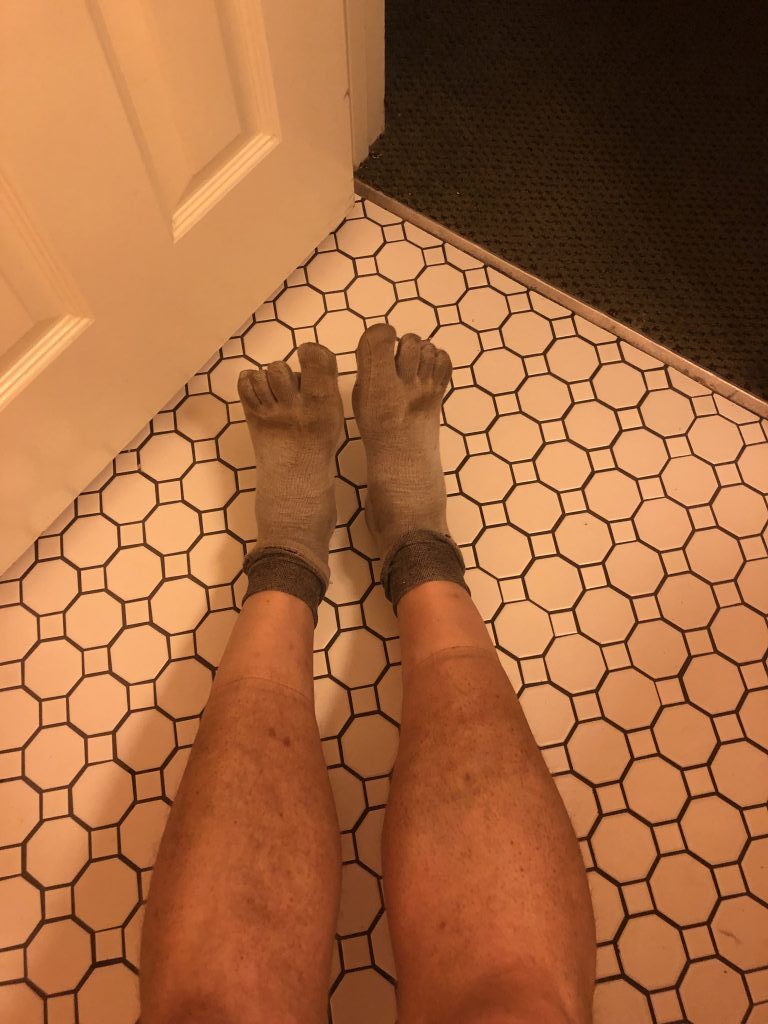 ---